September 7, 2018 8:46 am
Tips on Why, When, Where and How to Host a Moving Sale.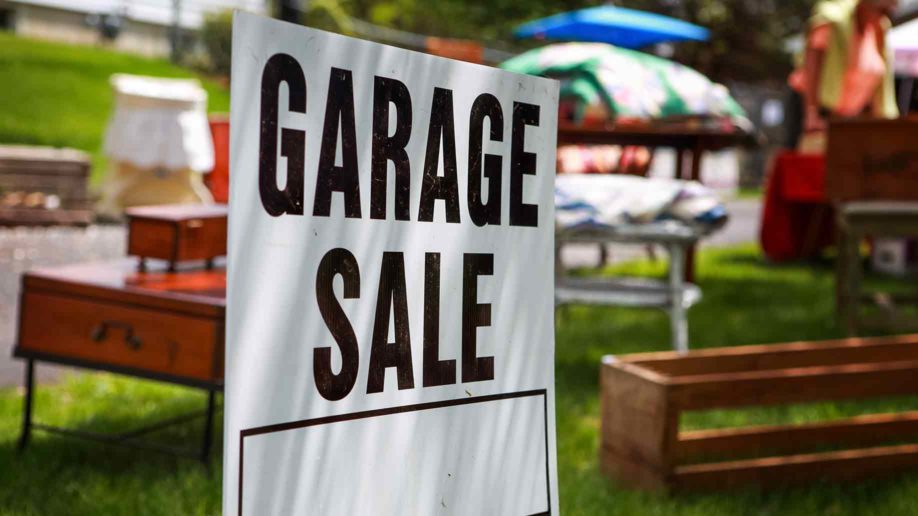 Why Hold A Garage Sale Before Your Move
You're about to move and along with that comes the task of moving all your stuff. Now is a great time to decide what you will keep and move with you and items you don't want. Having a garage sale before you move can help reduce the price of your move.  By getting rid of some items, you will be decreasing the weight of your shipment along with the amount of packing materials you need to use. Hosting a garage sale can bring in some money which can help offset the cost of moving. 
For a successful garage/moving sale, the key is to determine what you no longer use, have outgrown or things that can easily be replaced. Remember, one man's trash is another man's treasure. 
Holding a garage sale is another great way to bring potential buyers to the house if the house hasn't already sold. 
How to Begin Planning Your Garage Sale
All hands on deck – husband, wife, children, even the family pet! Every family member should contribute some items to sell during the garage sale. The last thing you want to do is move unwanted items to the new house. Make it fun for the children and turn it into a sales competition.  If you want to go even bigger, reach out to neighbors and turn the event into a neighborhood yard sale. This could attract more buyers as there would be more items for sale. 
When to Have Your Garage Sale
Set a date and time for your garage sale as soon as you can. Fridays, Saturdays, and Sundays are usually best – people are off work and have some free time.  Remember to also choose a rain date – bad whether can deter people from coming out and shopping. Lastly, pick the times you will be "OPEN FOR BUSINESS".  For example: 7:00 a.m. to 1:00 p.m. A Lot of shoppers like to get to these things early (before all the good stuff is gone), so be ready for early arrivals.
Where to Hold Your Garage Sale
Check with your local town about any restrictions for yard sales in your area. Once you have a location, grab some folding tables to display items on. Garage sales usually take place outside in a driveway or front lawn, but another space could be a basement (if you don't mind people walking through your home).
Where to Advertise Your Garage Sale
When you advertise your garage or yard sale, make sure the date, time, and address are front and center. We suggest adding a rain date as well just in case. Highlight your big ticket items in your ad – tools, appliances, electronics, etc… You can consider including your phone number or email so people can reach out prior to the sale for more information.
Social

Media

.Facebook, Instagram, and Craigslist are a great-places to advertise your garage sale.  They are really useful during your event. When posting about the event, use your city name as a hashtag, for example: "#GarageSale going on in #Middletown today! Message me for details." Consider posting about a big item that just sold, refreshments you have available, or discount prices on the last day of the sale.
Online Classifieds.You might take advantage of free online classifieds such as yardsalesearch.com, and garagesalefinder.com. They are all free to advertise and will generate a map for buyers to find you easily. You can still use Craigslist, but it's very hard to get noticed with the volume of listings they receive every minute.
Put Flyers and Posters Around the Neighborhood. Design "Garage Sale" or "Yard Sale"  on bright construction paper or posters. If handwriting, be sure your handwriting is legible. Important things to have on the flyer: date, time and address. Check with the town to see if there are any restrictions or requirements for signs and posters.  Hang them in high-traffic areas with arrows and directions the night before or the day of the sale.
Local Newspaper.Consider running your ad in the local newspaper

(

Tri City News, Asbury Park Press).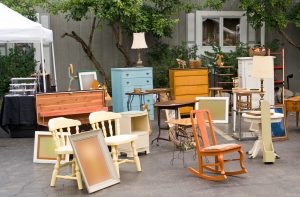 Ten Essential Preparations for your Moving Sale
   Price things to sell.Search eBay or search online to determine how much you can reasonably sell your items for.
   Put a price tag or sticker on each item.Make sure all the tags or stickers can easily be found by the shopper. Use different colored stickers or an identification code on the tags if more than one family is involved in your sale.
 Keep loose pieces together.Bundle all sets, groups, or units together so customers know what they are getting.
 Keep "for sale" items and "not for sale" items separate.
 Display like items together.When you keep kitchen utensils, sporting goods, and tools together it makes shopping for the customer a lot easier to find what they are looking for. If possible, hang clothing on a rack for people to shop with ease.
 Set up a secure place for a Cashier's desk.Make sure it has a calculator, scissors, tape, string, markers, a cash box and plenty of change. Not having enough change could result in accepting a lower price for an item or losing a sale altogether.
 Be prepared for the weather to change at any time. Have several large sheets of plastic handy to quickly cover everything.
 Offer refreshments for sale.To keep the kids busy, buy some sodas, waters, and ice teas.  Tell the kids that the money they earn selling drinks is their reward for helping. On a hot summer day, a cold drink will be a welcome relief to shoppers.
Assign everyone in the family a job.Many hands make light work. Give everyone something to do for the day- cashier, clerk, or organizer. Most importantly, have fun! You Are Now Ready For A Successful Moving Sale!
Tags: antiques, apartment, blog, buying, deals, estate sale, garage sale, home, monmouth county, moving, new jesery, ocean county, selling, vintage, yard sale

Categorised in: blog